Make a snail Tilda style
9:29 PM Diytuco 2 Comments
Textile toy snail style "tilda"


Types of work:

Dolls and Toys> Dolls Tilda




Dolls and Toys> Dolls

Difficulty:

below average

Run time:

3:00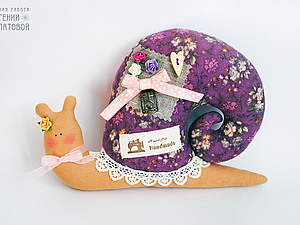 My name is Eugene Lipatov.
I am the master of textile handmade toys.
Today I want to introduce you to a master-class with which you can make just such a lovely decorative snail
The list of materials according to the rules written in the end of the master class, but it is somehow not very convenient, because we have just started, and already need to look to the end of the "book"
)) So, I will duplicate it here, backed by a photograph.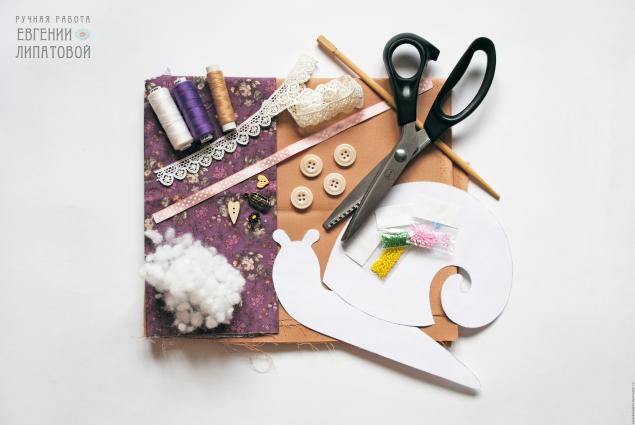 Two types of tissue - for the body and for the snail shell;

thread to match fabrics;

needle and pins with heads;

sewing machine;

scissors (I have them form zag-zag, but you can use plain);

soft pencil or a piece of soap (chalk);

stick to sushi (it will use for turning and stuffing pieces);

hollofayber for stuffing toys;

Materials for decoration snails (ribbons, buttons, beads, pendants, stripes, lace, paper flowers, etc.)

super glue (if suddenly a decor element will be impossible to kill

);

black acrylic paint (for drawing eye snail);

author Tony Finanger pattern;
Thus, the stock of inspiration and good humor, and start
1.
Print out the pattern on a sheet of A4 (
landscape
).
If you do not have a printer, you can just translate it, putting a clean sheet to the computer screen
Cut out the pattern.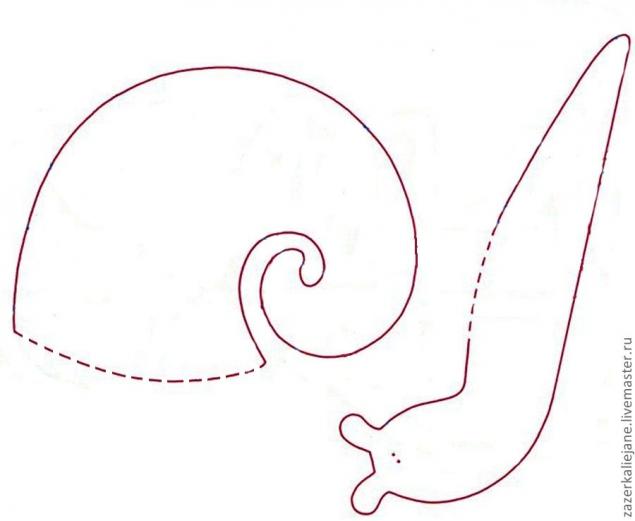 2.
Carefully iron both types of tissue, folded in half.
3.
Then pin to pin up each interval corresponding pattern and draw out the contour pencil.
Expect the fabric so that the contour around the left about 3-5 mm in allowances (
including those on the bottom of the sink
).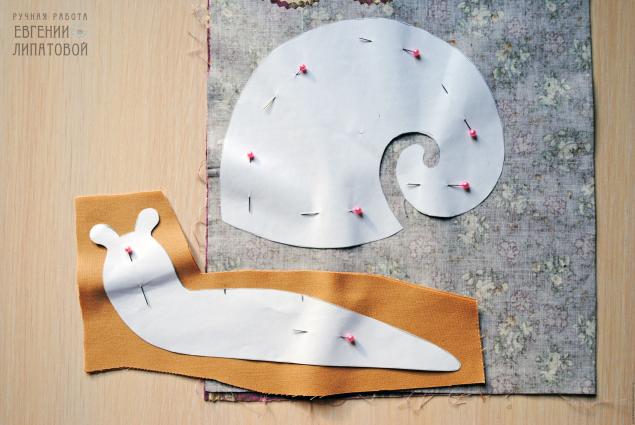 4.
Remove the pattern and then chop off the fabric to sewing at a typewriter (
or manual
), they do not move out.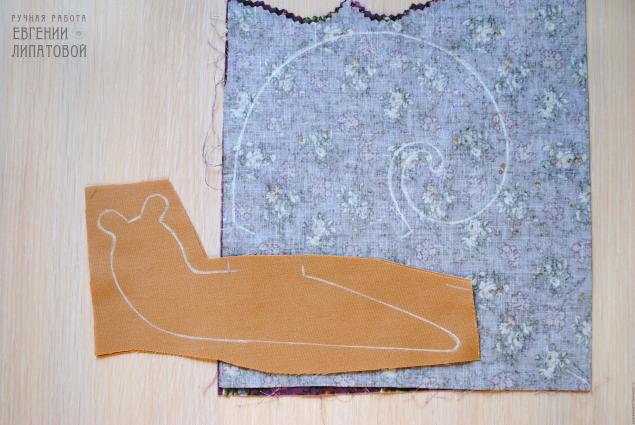 5.
Sew along the contour details (
location indicated on the dotted pattern is not sewn up, because through them we will fill the toy
) and cut out, leaving allowances.
I'm doing a zig-zag scissors.
If you have a regular pair of scissors, the local curvature of the contour
(horns, a spiral shell
) to make a few small incisions (
carefully, do not damage the seam!
), so that when we left reversing allowances tissue is not deformed shape toys, becoming a room.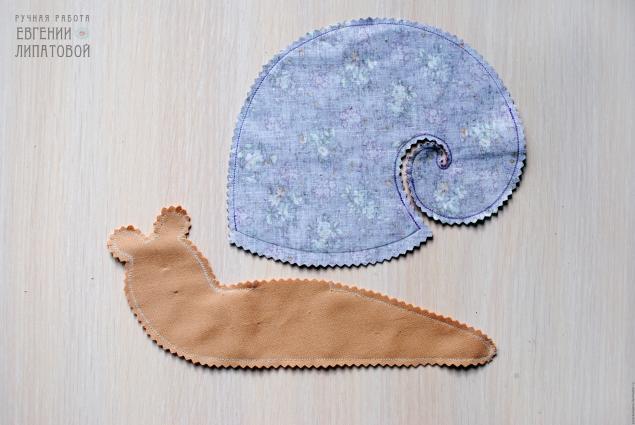 6.
Now through nezashitye land up turning blanks on the right side.
Doing it with a stick for a sushi.
Especially use it when reversing small parts such as horns and a "tail" snails and tip spiral shell.
After twisted iron billets.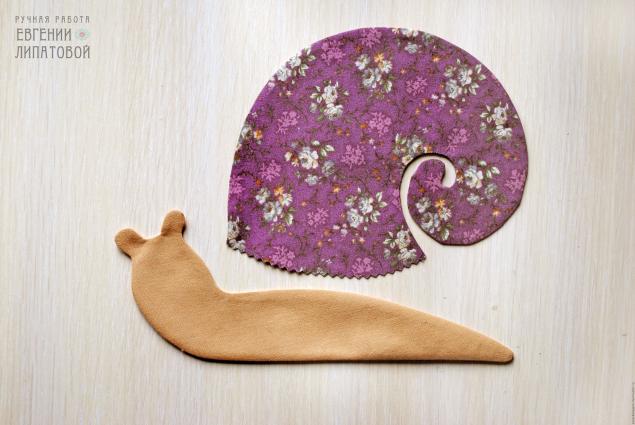 7.
The bottom of the shell buckling and nametyvaem.
This is in order for us to be more convenient to fill it, and then sew the body of the snail.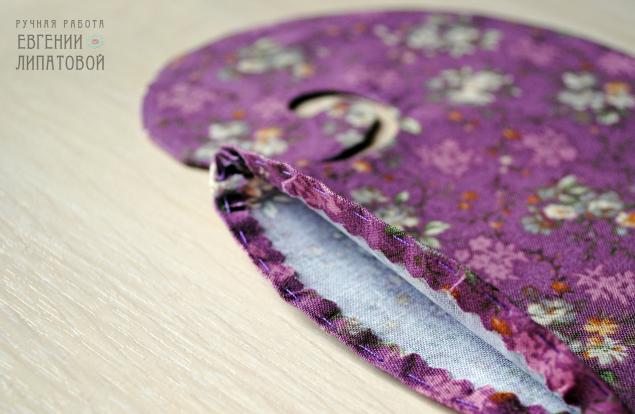 8.
Hollofayber fills blanks.
Here it is also useful to stick sushi
using it to fill their tight little pieces (all the same horns, "tail" and the tip of the snail shell).
Fills snail tightly and carefully to avoid lumps and creases on the fabric.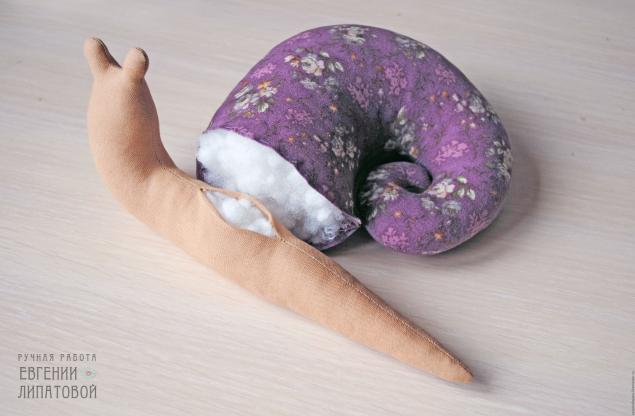 9.
When both parts of a future full of snails, a hole in her body sewn.
If you do not get flat seam, do not worry, this part of the body toy would not be visible, because it is here that will be fixed sink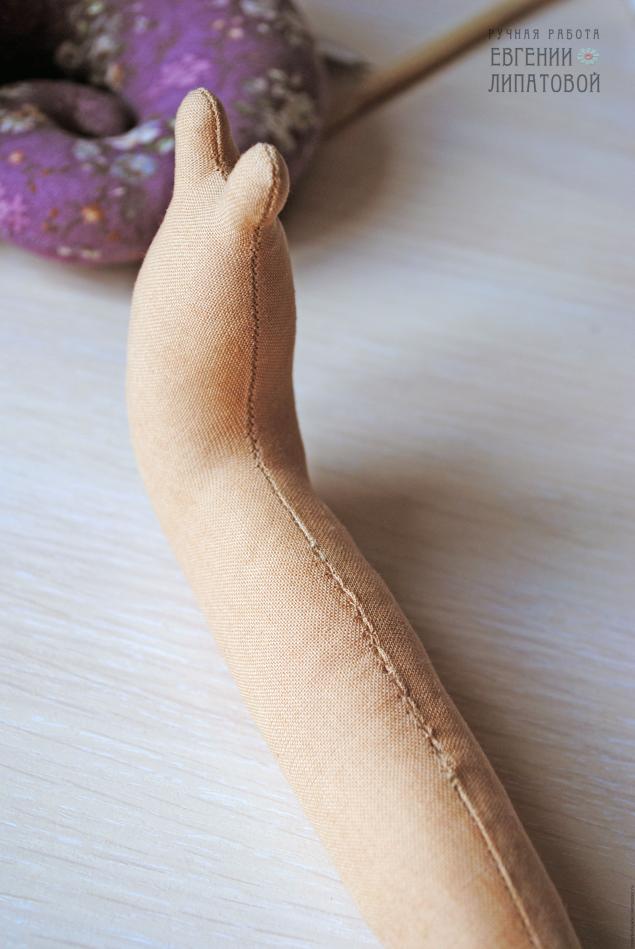 10.
Now you need to sew the cochlea her "Little House"
by first pin up to the sink to the body with pins, sewing that when she moves out.
Need to combine parts of the base with the axis of the body shell snails for the correct placement of "house."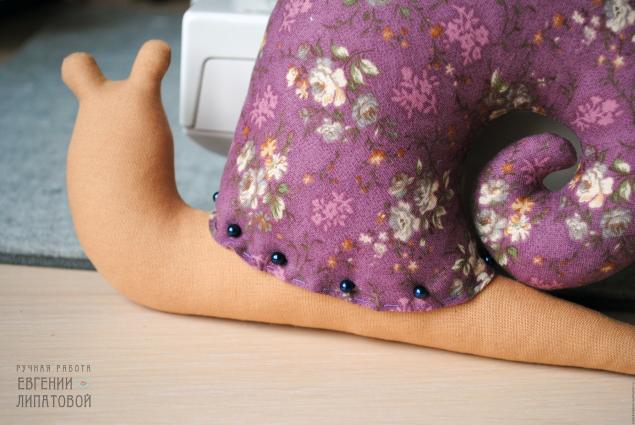 11.
Sew a shell hiding the body seam.
Basting stitch after can be removed, but you can not do this if you then sink base zadekoriruete.
Here is our prototype for snails and ready.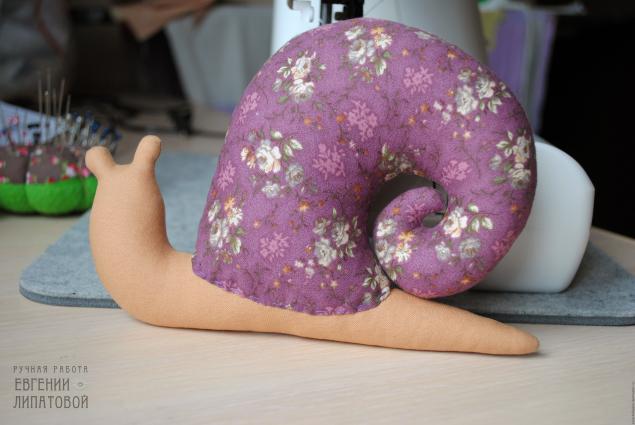 12.
Getting to the decor, which is an integral part of any textile toys.
With him she gets a complete image and become a stylish, beautiful and pleasing the eye
You can use all kinds of accessories and materials.
For my snails I chose lace, a piece of linen cloth, which became the basis for original compositions on the shell, satin ribbon, decorative wooden button of a heart-shaped , a metal hanger "bird in a cage", paper flowers and h / b patch "Handmade".
advise first just poprikladyvat decorative elements to the toy, make a test track, and then selecting one of them, already start to sew and glue.
First I decorate the base shell lace.
Then a piece of linen sewn colored thread to the sink seam forward needle.
Well, after already started flower arrangement, buttons, pendants and ribbons, which turned into a bow
Eye-dots cochlea can be drawn with black acrylic paint and a toothpick, and you can embroider a French knot.
To complete the image of the "haircut" was inserted into the cochlea, paper flower, neck tied organza ribbon air, and she painted cheeks (
you can use any suitable conventional in tone and blush applicator or cotton swab
).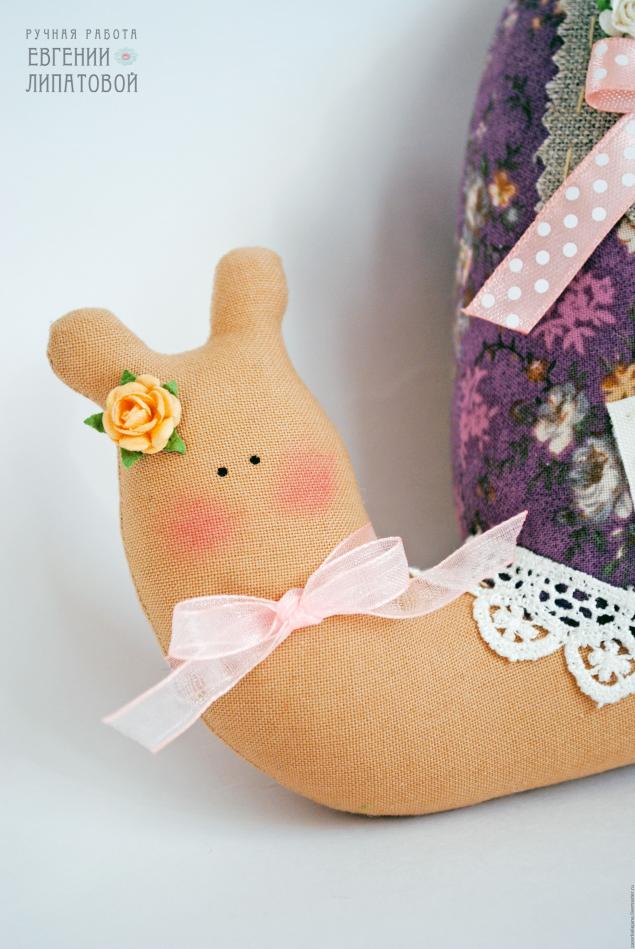 13.
And, our textile toy snail ready!
For everything it took me 3 hours.
So, as you can see, handmade gift can make fairly quickly, the main thing to want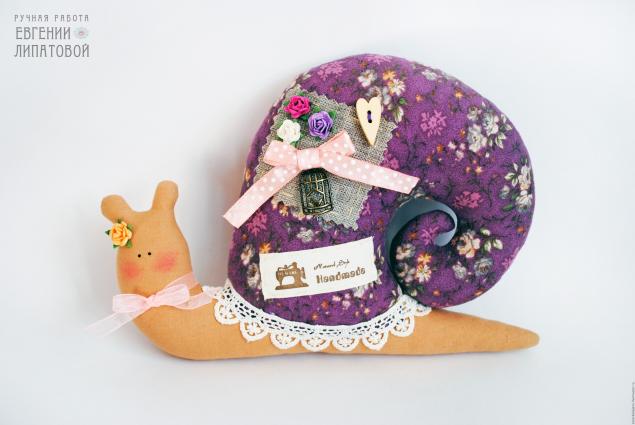 Thank you all for your attention to my master class!
Creative ideas for you and good day!